Look what I "saw" today at the Coop!
Beautiful hand painted saws. These are all unique, completely one of a kind. Very charming!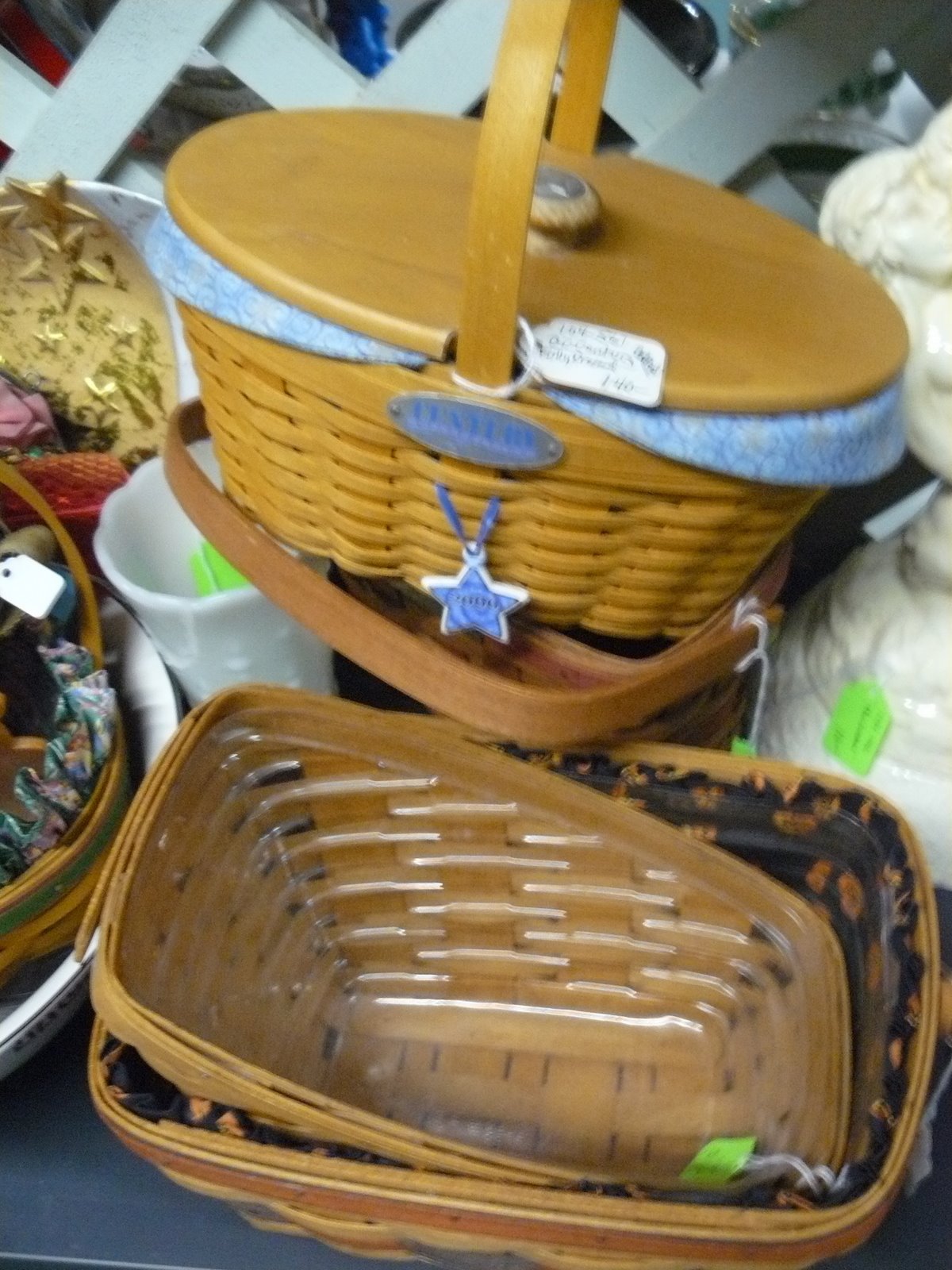 Longaberger Baskets!
Many of these maple wood splint beauties have the wood lid, the fabric liner, the plastic protector, even the tie ons! These pieces are not available everywhere. Some are retired, some were hostess only, some were Collector's Club. Don't miss out!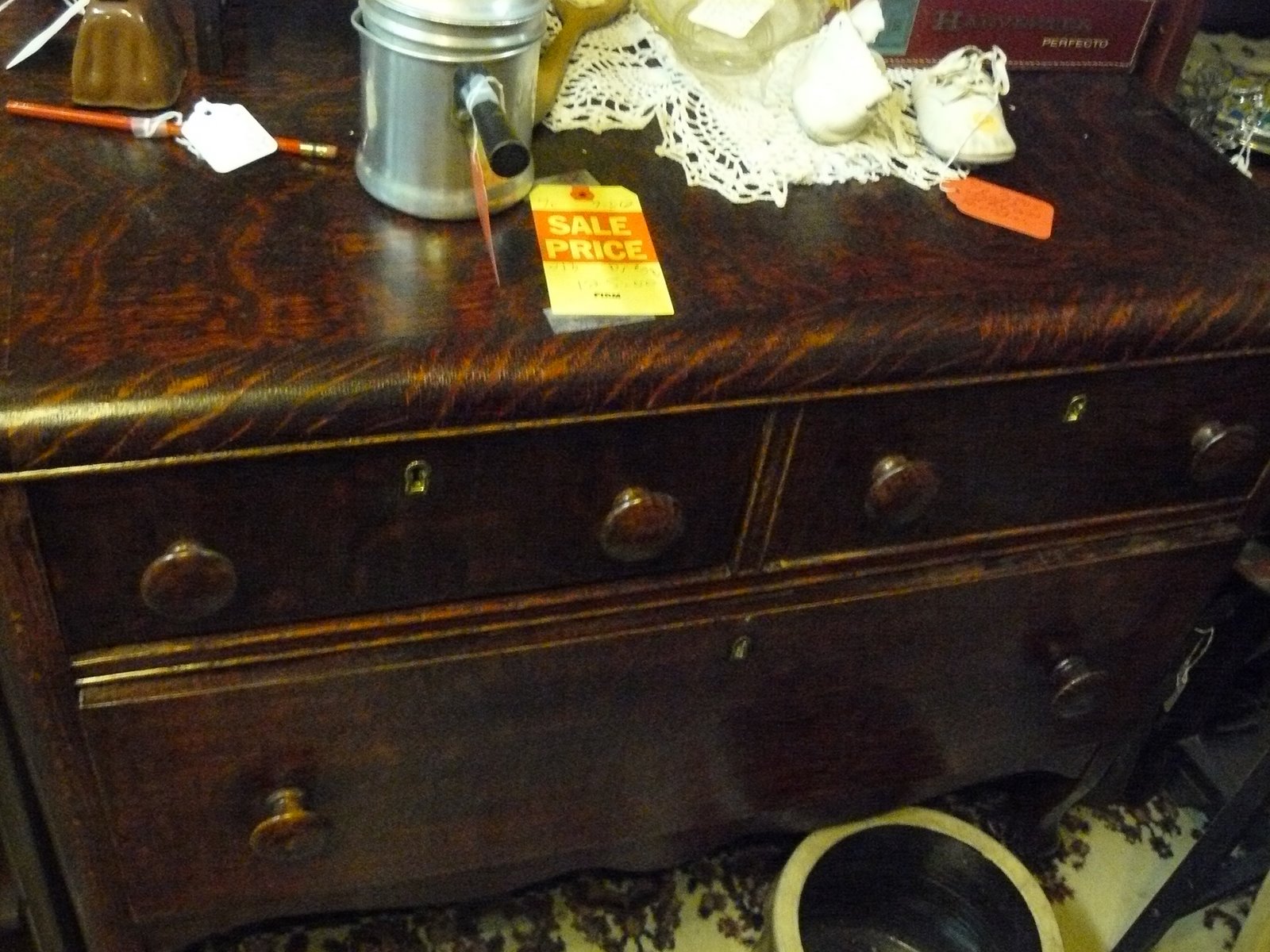 There's some beautiful furniture finds to be had at Scranberry Coop. Breakfronts, highboys, lowboys, rocking chairs, bookshelves, pie chests, hoosiers, cabinets, vanities, dinette sets, schoolhouse desks – you name it, we got it.
Take a look at this beautiful dresser. Think about what you'd pay for a new dresser anywhere from IKEA or Pottery Barn. And you know nothing you find new is going to match the craftsmanship, style, and charm of this piece.
Wouldn't this look great in your guest bedroom? Or how about with linens inside as a serving board in your dining room? Or better yet- right in your entryway as you come in the front door? Add a tray for your mail, a bowl for your keys and nice floral arrangement in a vintage vase and you've really got something. The drawers would be a great place to keep your mittens ;)
How is it that we have all this artwork and these unique collectibles? Simple! We have unique dealers!
At any given time we have more than 150 different antique and collectible dealers here, hosting about 200 separate booths. While some of these dealers are professional antique-smiths, some are newbies. Some are restorers. Some are artists and some are collectors. We're lucky to have such a fascinating, diverse, and eclectic group of people here. Truly, there is something for everyone.
The artisan that paints the beautiful landscapes and imagery on the saws shares her work with the world here at the Coop. The Longaberger baskets are from the personal collection of another dealer; a collector who's decided to part with some of her treasures. What an awesome opportunity for you to get a retired basket for your own collection!
Keep in mind – not only can you come to Scranberry Coop and shop, you can come here to discuss having your own booth! Do you paint, make pottery, craft jewelry, or build bookcases? Have you been collecting some awesome collectibles that you're ready to part with? Maybe Scranberry Coop is the place for you!
It's not going to cost you anything to come visit us, and see. Grab a snack at the snackbar. Have a walk around our ten thousand square foot store. Look at the many diverse dealers, the many unique booths. And talk to us about what you think you'd like to sell in your very own space. Hey, it's a lot easier than opening up your own shop. Rent here is very reasonable, and you don't have to worry about all the overhead and stuff. Plus, we're already established with the best patrons anyone could ask for. We have lots of customers that come here expecting to see freshly stocked booths all the time. This might be the perfect launching pad for you.
What are you waiting for? Come on down to the Coop and check it out for yourself!
Original Posts Source: http://scranberrycoop.blogspot.com/2008/12/